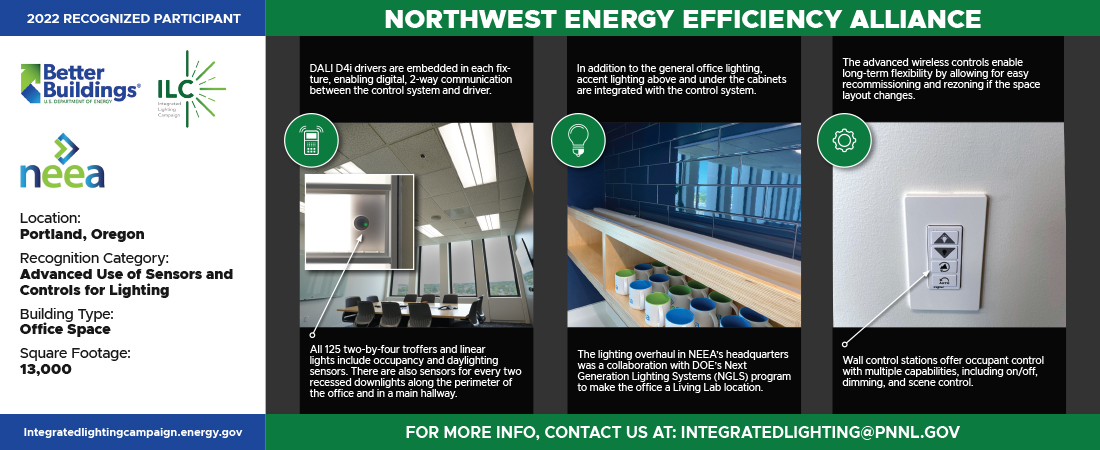 The Northwest Energy Efficiency Alliance (NEEA) is an alliance of more than 140 utilities and energy efficiency organizations working to increase the adoption of energy-efficient technologies, services, and practices. 

About the Project

In 2021, NEEA installed Luminaire Level Lighting Controls (LLLC) during a remodel of their Portland office. This project was realized in part with the support of a grant from the U.S. Department of Energy (DOE) that covered about half of the costs. NEEA collaborated with DOE's Next Generation Lighting Systems (NGLS) program to make the office a Living Lab location -- just one of three that exist in the United States.  Planning for the project started in late 2020 and culminated in the LLLCs installation in June 2021.  Because the project was completed during the pandemic, complete energy savings are not yet available. Performance is being actively tracked as the space resumes full occupancy. This page will be updated with data as it becomes available.
Procurement and Installation
To find the right products, NEEA and NGLS issued a Request for Interest for manufacturers who could design, install, and configure an innovative LLLC system for a 13,000 square-foot space with intelligent D4i drivers. They ultimately chose a system with Dali standard D4i drivers. All 125 two-by-four troffers and linear lights include occupancy and daylighting sensors. Longer linear lights included two sets of sensors. The team also installed sensors for every two recessed downlights—along the perimeter of the office and in a main hallway. Additionally, NEEA worked with a local manufacturer in Portland to sync the under cabinet tape lights with the LLLC system.
Integration and Operation
When installation was complete, a NEEA project manager and the controls representative spent about two days programming the LLLC system to manage color, power, and data collection. For example, the LLLC allows flexibility for lighting zoning to cover a big or small – even micro – area which studies have shown produces better light quality and greater energy savings than lighting an entire space. The system features color tuning throughout the day to provide a more comfortable lighting environment for everyone. NEEA is already making plans for the LLLC system to connect with its HVAC system for even more granular automation and energy savings.