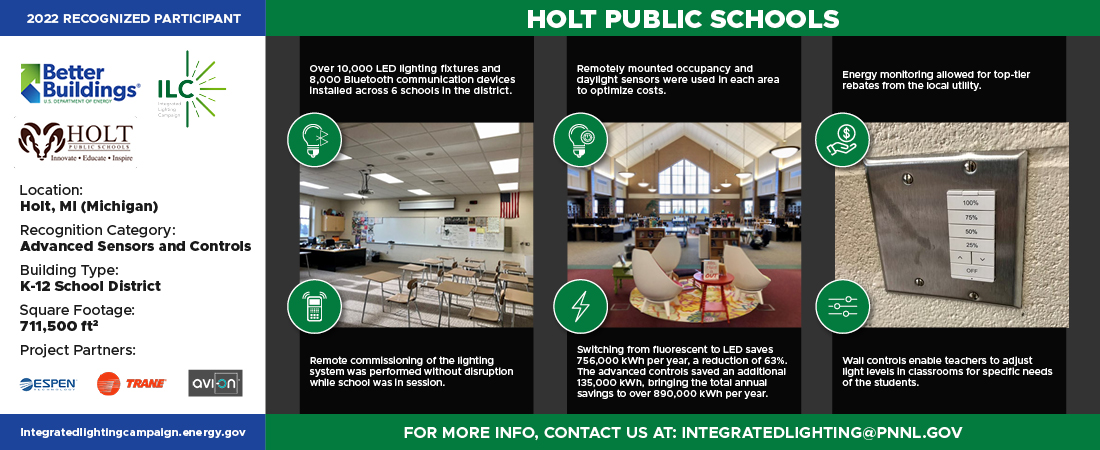 About the Project
Holt Public Schools, a K-12 school district in central Michigan serving more than 5,000 students, installed nearly 10,000 LED luminaires and retrofit kits, almost 8,000 Bluetooth communication devices, and 9,000 lighting control devices at nine schools across the district. The lighting was installed in classrooms, in hallways, and in the exterior, including parking lots.
The project was part of an infrastructure upgrade expected to help the district meet its sustainability goals by cutting 64% of the energy used by the previous fluorescent lighting system, equating to about $3 million in savings over the next 12 years. In addition to saving energy, the lighting also contributes to a more comfortable learning environment for the students compared to the overly bright fluorescent lighting which often drove teachers to turn off lighting completely.
Procurement and Installation
Holt Public Schools worked with Avi-on, Espen Technologies, and Trane on the project. Costs for the lighting upgrades were funded with an Energy Bond, under a Guaranteed Performance Contract managed by the state of Michigan. Although this was massive undertaking, the lighting controls were fully commissioned without any disruption to learning, even while the students were in class. To minimize onsite labor, the controls were pre-configured and pre-installed inside fixtures.
Integration and Operation
The impressive network of Bluetooth devices is considered one of the largest single mesh networks in the world without a gateway.
Occupancy and daylighting sensors were integrated into many of the luminaires, but all of them came equipped with wireless communication capabilities that enabled control and monitoring from one centralized location or mobile device. The system also has energy monitoring capabilities which qualified Holt Public Schools for receiving energy rebates from their local utility, Consumers Energy.