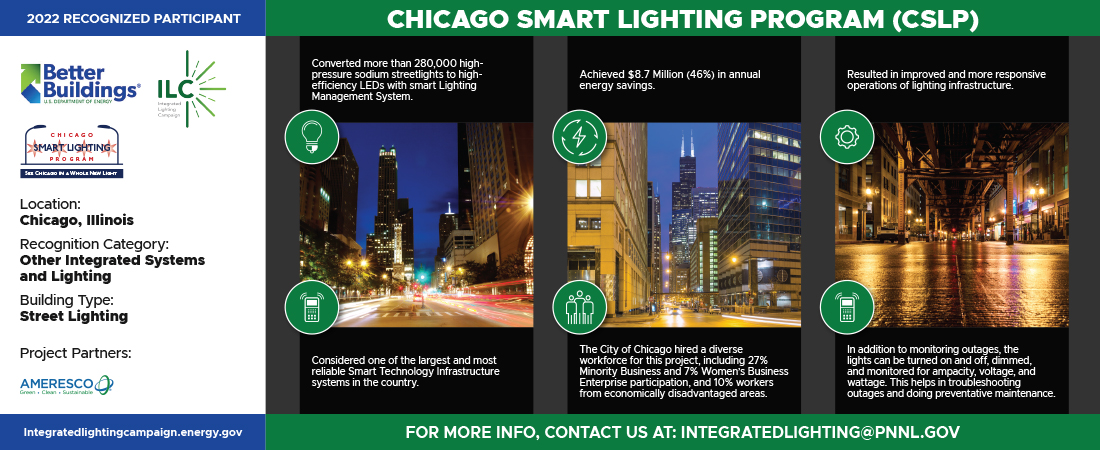 Listen to Craig Turner, Deputy Commissioner with the City of Chicago's Department of Transportation talk about the Chicago Smart Lighting Program' success.

About the Project

In 2022, the City of Chicago finalized one of the largest, most ambitious, street lighting modernization project in the country. In the span of four years, the city replaced more than 280,000 outdated high-pressure sodium (HPS) light fixtures with energy-efficient LED lights, which use less than half the energy of HPS lights and last twice as long.

The city also implemented a smart lighting management system powered by a wireless network of nodes attached to each fixture. The nodes send instant outage notifications, automatically creates a repair ticket, and assigns a repair crew to respond to the location of the faulty light. This allows for quicker maintenance and repair.
The $160 million project is expected to save $100 million in electricity costs over the next ten years. In 2021 alone the city cut its energy bill by more than half, resulting in $8.7 million in savings. The City also received almost $34 million in rebates from the utility ComEd.
Energy Equity and Workforce Development
In addition to meeting its energy efficiency goals, the city also sought to advance equitable outcomes for socio-economically disadvantaged neighborhoods and residents of Chicago. Although the prime contractor for the program was Ameresco, a national leader in the field of energy efficiency , the city prioritized hiring a diverse set of local subcontractors, including Lyons View Manufacturing, a certified Minority Business Enterprise dedicated to creating job opportunities for West Side residents with barriers to employment. Lyons View assembled more than half the LED fixtures used in the program.  
The city also prioritized equity by installing the first new LED streetlights in the South and West Side neighborhoods in Chicago, allowing these communities to be the first to enjoy the public safety benefits of more efficient and reliable streetlights.
Partnerships as Key to Program Success
The Chicago Smart Lighting Program was a massive undertaking from beginning to end, including hundreds of internal and external stakeholders, vendors, and partners over several years. To ensure its success, the city sought the technical expertise of trusted partners that could guide project scope development and procurement planning. One of those partners, the Midwest Energy Efficiency Alliance (MEEA) provided ongoing technical assistance and access to key experts at the U.S. Department of Energy (DOE) and Pacific Northwest National Laboratories (PNNL), which helped City representatives better understand the LED street lighting and Lighting Management System technologies available, as well as best practices with respect to specifying, installing, and managing these resources. Read more about the Chicago Smart Lighting Program Implementation Model.