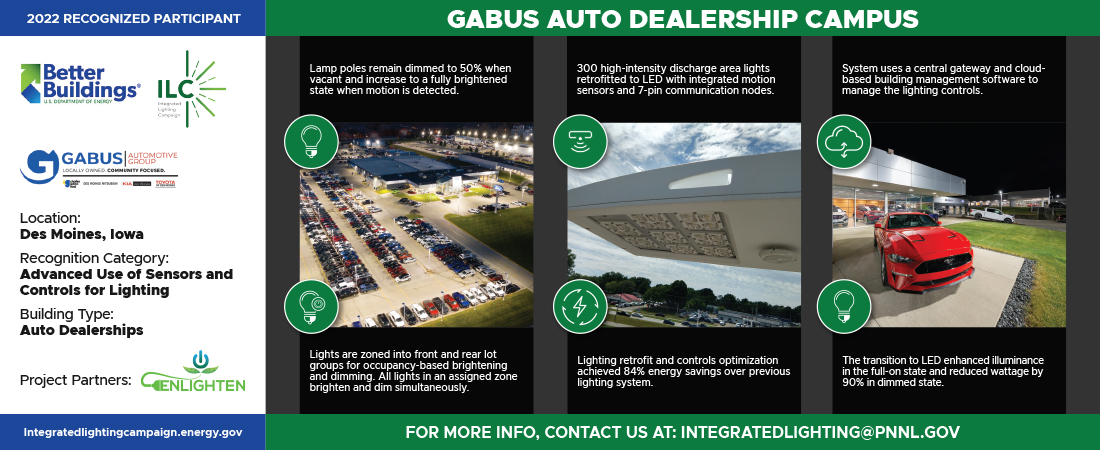 About the Project
Gabus Automotive partnered with Enlighten Solutions to commission a new motion-activated outdoor LED lighting system for a campus of dealerships in Des Moines, Iowa with the goal of maximizing energy savings and enhancing the overall shopping experience for visitors, while keeping project costs low. In total, the dealership replaced existing metal halide fixtures with 300 LED luminaires combined with infrared motion sensors and 7-pin wireless mesh communication nodes across four buildings.
Watch this video by Enlightened to learn more or read the case study.
Enlightened designed a system that projected different light levels of brightness in the street-facing lots which displayed the marquis vehicles compared to the back lots where vehicles are serviced. Across many of the lots, overall wattage and fixture quantities were significantly reduced. Some poles with four 1000-watt, metal halide fixtures were replaced with two 400-watt LED fixtures, which results in nearly 80% overall energy savings.
In addition to more efficient LED lights, the dealership also installed motion-activated controls which would further reduce energy use while enhancing the nigh-time shopping experience. An infrared motion detector is embedded into each individual fixture which triggers the light to turn on to 100% during dark hours when motion is detected and to dim to 50% brightness during inactive periods. For the poles that reduced their output from 4,000 to 800 watts, these motion-activated controls provided an additional 50% reduction in wattage for most night-time hours. In all, that is a drop of 4,000 to 400 watts or 90%! Motion activated controls are a very powerful energy-saving strategy for auto dealership where target brightness and fixture wattage levels are quite high in order to attract customers and display sales vehicles. The control system comes with a web-based platform where the user can turn their lights on and off, control a fixture or a group of fixtures, view real-time data of individual lights, and troubleshoot power and fixture issues.
This project was recently completed so precise energy savings are not yet available. This page will be updated with data as it becomes available.