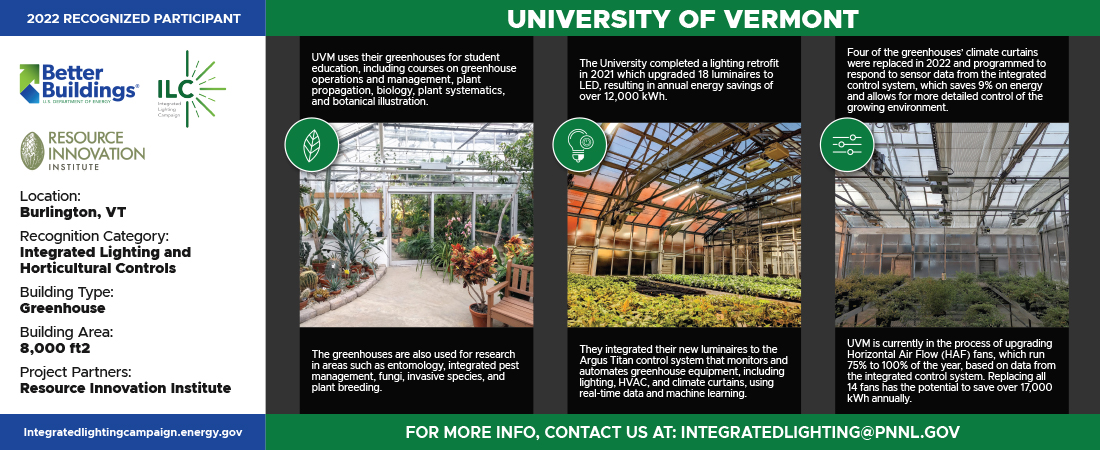 About the Project
Housed within the College of Agriculture and Life Sciences, the University of Vermont (UVM) greenhouse facilities support the research, teaching and outreach needs of the college. The main campus greenhouse is an 8,000 ft2 conservatory that houses a living plant collection consisting of 400 species from around the world. Keeping these plants healthy requires creating ideal growing conditions, maintaining an optimal Daily Light Integral (DLI) based on the needs of individual plants, and just the right temperature. 
Energy Efficiency Outcomes
To achieve this, the greenhouse replaced outdated, low efficiency light fixtures with 18 cutting-edge, light-emitting diode (LED) grow lights, which resulted in annual energy savings of over 22,000 kWh. The estimated simple payback on these new lights is less than four years.
The greenhouse also installed a control system that automates and monitors the HVAC and lighting, as well as the climate curtains, which provide shading and a thermal layer to reduce heating and cooling loads. The control system records and stores historical trend data in 5-minute intervals, which UVM is using to optimize growing conditions, energy use, and ensure systems maintain ideal conditions for plants.
Financing
The project was made possible thanks to a 2020 grant from the UMV Core Facilities Upgrade Fund and generous incentives from the local utility, Burlington Electric Department, which is encouraging more retrofits of the school's other greenhouses.