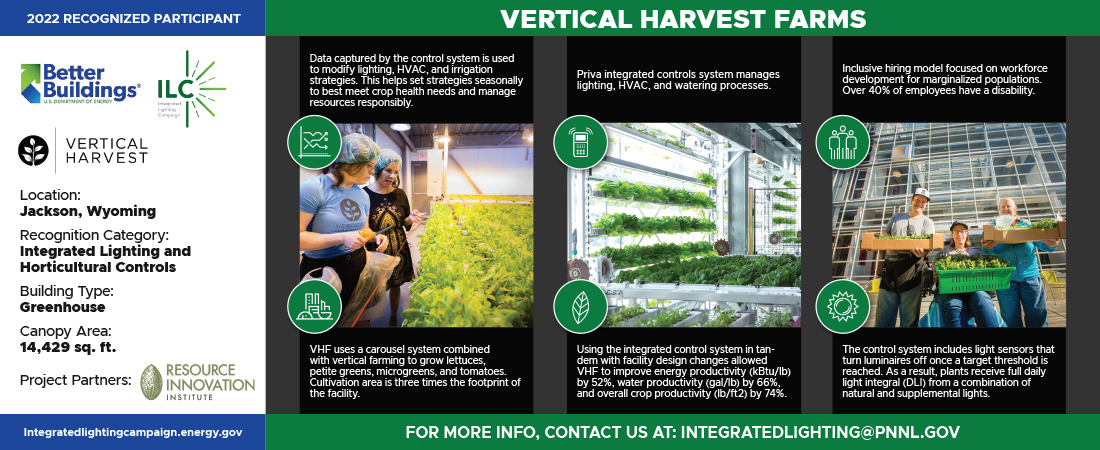 "We prioritize both our social impact and profitability, by leveraging a mix of public and private partnerships and operating with a customized, inclusive employment model currently focused on individuals with physical and/or intellectual disabilities. Additionally, we ensure each farm innovates at the intersection of climate, food accessibility and economic inclusivity to leverage food as a medium for change."
Vertical Harvest Farms is an urban hydroponic farm using controlled environmental agriculture (CEA) in Jackson Hole, Wyoming. Since 2016, Vertical Harvest Farms has produced leafy greens, microgreens, and tomatoes in their 0.1-acre greenhouse to serve a population of 10,000 in Teton County. Vertical Harvest Farms uses a vertical racking system that rotates carousels of crops, which makes their cultivation area three times bigger than the footprint of their facility.
Vertical Harvest Farms has used the Wyoming facility to test strategies for maximizing yield, including crop-specific growing and harvesting techniques like optimal lighting, climate controls, rack density, and crop transport automation. The facility uses a Silver Bullet water management system, Priva environmental controls, and horticultural lighting systems from Signify, GE Current, and Fluence. In 2018, they began using Priva's integrated control systems to automate and manage the horticultural lighting, HVAC, and irrigation at the facility. The system adjusts heating in response to internal and external climate data collected by network of sensors throughout the greenhouse. For example, vents open at specific rates in response to temperature rise.
By using the control system to enable horticultural light fixtures when needed and disable them when sunlight is sufficient for meeting crop Daily Light Integral (DLI) targets, VHF pays less for electricity to operate lighting serving the greenhouse. Using LED horticultural luminaires allowed Vertical Harvest Farms to increase DLI from 3 to 16 for the same amount of power consumption. This system allows them to track and report on energy consumption for a USDA grant VHF received to supplement the cost of the energy efficiency upgrades.
VHF farms is leading by example and showing how modern building technologies, like integrated lighting controls, can be used as a tool to make meaningful work and nutritious produce accessible to all.